My Journal (Hiroshima May 25 Mon - May 28 Thur)
Click on an image to enlarge
May 25 Mon
We arrived at JR Hiroshima Station in about one hour, and we took taxi to our hotel. As we arrived, we saw a lot of people and they were heading to the baseball game. The city hosts Hiroshima Carp in Central League. That evening, they played against Seibu Lions in Pacific League on an interleague game. By the way, Daisuke Matsuzaka used to play for Seibu Lions.
Anyway, Andoryu and Kurisu wanted to see the game and the taxi driver said you could still get tickets so we went. We had several choices, but selected the cheapest, $18, for "Performance" Section. We didn't know what it was, but it turned out to be a cheering section. See the movie!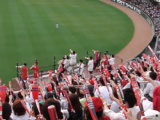 Baseball and cheering fans (movie, 2 min 41 sec)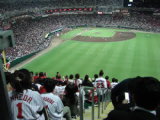 The Worst YMCA you'll ever see. At Hiroshima Carp baseball game (movie, 1 min 28 sec)
The cheering was organized by self-appointed (?) fans and everyone got into it. Of course, our section was the only one making noise and the the rest of the stadium was quiet and well-behaved. Oh, and we won, 3-0! See the pictures.....
| | | | |
| --- | --- | --- | --- |
| School children wear yellow caps | Flag waving | New Hiroshima stadium | Kurisu and Andoryu |
May 26 Tuesday
This was a busy day. In morning, we had a tour at Mazda factory in Hiroshima City.

Jyou

Sera-san

Arekkusu

Merissa-san

Eyana-san

Keito-san

Arekkusu-san

This car won the Le Man in 197?
Driven by a rotary engine

Mazda RX-8 with a
dual-source (hydrogen and gasoline)
engine

Mazda Concept car
We then went to JR Saijyo Station in Higashi Hiroshima City, about 30 minutes on train. I saw the cutest police car!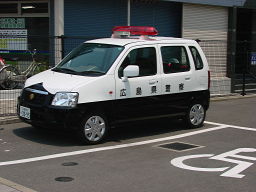 After lunch, we had a tour of Kamotsuru sake brewery. Apparently it was a busy day for them, and we were escorted straight to the tasting area (mob!).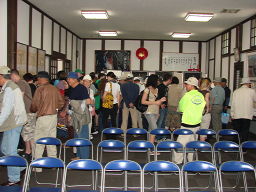 We were pretty much left to ourselves, and I had to interpret the video show. Eventually a tour guide appeared and he took us into the actual brewing area - they brew from November to April so it was empty but we actually got to see the inside of the buildings and it was neat. The temperature was very cool. No A/C. It was meant to maintain a cool temperature simply by air flow and design.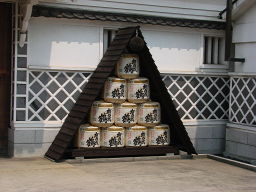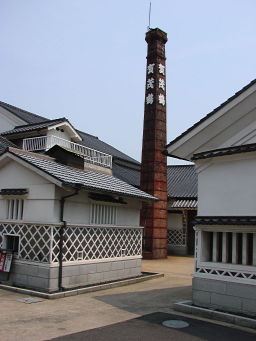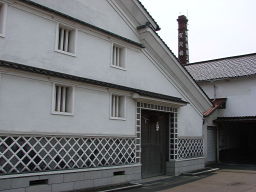 And, then, we went to Hiroshima University. It was my mistake to schedule another visit after tasting sake..... We got to see their Library and Synchrotron Radiation Facility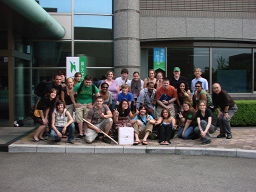 May 27 Wednesday
In morning, we walked to Hiroshima Peace Memorial Park and Atomic Bomb Dome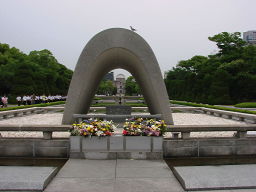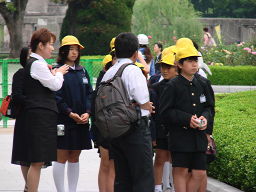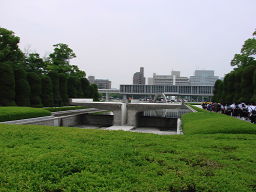 Statue of Sadako Sasaki, and the dedication of Senba-zuru (thousand paper cranes). For details, read Jetsetting Across Japan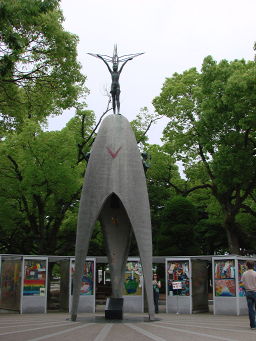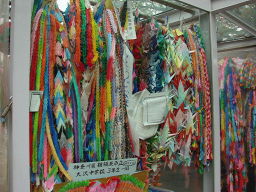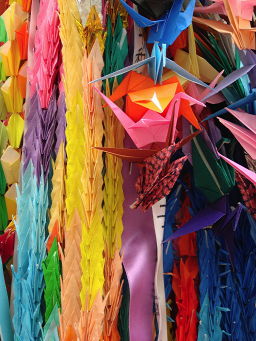 Atomic Bomb Dome. The building was right under the atomic bomb explosion and thus survived the blast, while other buildings within a few miles were demolished. Today it still stands by the Peace Park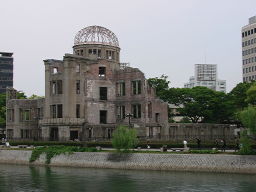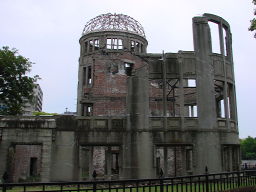 It was my first visit there, but I knew most of the facts presented at the Peace Park and have seen pictures too but it was very emotional to see the display. The tone of the museum was not accusatory, but it was to bring their strong belief to bring peace to the world. It was positive and I thought it was very nicely done.
In the afternoon, we took the trolley and ferry to Miyajima Island and the Itsukushima Shrine.
It wasn't well advertised, but the island is populated with deers. Not surprising, since deers are considered the sacred messengers from God in Shinto. In Miyajima, you're not supposed to feed deers, but that sign didn't stop us.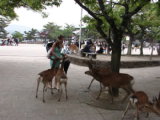 Arekkusu-san playing with deer in Miyajima (movie, 46 seconds)
| | | |
| --- | --- | --- |
| Tara-san | Andoryu | Arekkusu-san and her friend |
| They are friendly and hungry | | Arekkusu-san on the run |
We walked on the beach (low tide) and got to the famous floating gate. Except, it wasn't floating.....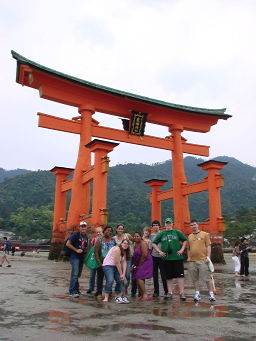 Some of us decided to skip the shrine and take the rope way to the top of Yasan Mountain where monkeys live. It was a tough walk to the rope way station but we got there in time

The view of Sekonaikai (Inland
Sea) from the top

Kerii-san and Sutyibu

Nikku and Burandon
These cut-outs are popular in Japan
Sadly, the monkeys were not there to greet us, but the view was fabulous. And we saw the cutest fire engine.....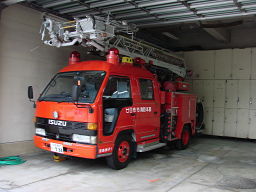 May 28 Thur
We left Hiroshima on Shinkansen and travelled to Kyoto (two hours on Bullet Train). We then changed train to Nara (40 minutes on local train)