My Journal (Kyoto May 29 Fri - June 3 Tue)
Click on an image to enlarge
May 30 Saturday
This was the day of guided bus tour. I was afraid this would be too touristy but it turned out to be very educational and covered important sites. I was glad we did that.
The tour started at Kinkakuji Temple, famous for its Gold Pavilion. It is covered with gold leaf (foil). Pure gold!



Merissa-san

Eyana-san

Nikku, Burandon, Buritta-san
and Tara-san

Poura-san and Eyana-san




As the tour guide told us, my students were surrounded by children. They were on a field trip and often they were told by teachers to talk to "foreigners" and obtain their names and towns. My students did their share of the international friendship and enjoyed the celebrity status.
We then went to Kyoto Imperial Palace. Did a quick buffet lunch, and then Nijo Castle (Tokugawa Shogun's residence in Kyoto) and Sanjyu San Gen Do (temple). We drove by Heian Jingu (Shrine), and finally Kiyomizudera (kiyomizu Temple)

Rossheru-san

Kerusii-san and Keito-san

Aru and Arekkusu

Jyakii-san and Rizu-san

Eyana-san,Sera-san,
Rossheru-san and Poura-san

Our knowledgeable tour guide
Miyazaki-san with the
Hello Kitty Marker

Jyakii-san and Rizu-san
by Love Stone

Kiyomizudera

Kurisuta-san
drinking Kiyomizu (spring water)

Maiko ladies and ?
May 31 Sunday Free day, no plans. I visited Nishiki Market area in morning, and then went to Ootani Honbyou (Ootaka Mausoleum).
June 1
Another free day. I went to visit my mother and sister
In the evening, we celebrated the completion of the tour at a Japanese Steak House where we got to try Ohmi Beef (same quality as Kobe Beef). It was fancy.
Some pictures on the way back. They look tired after two weeks of intensive touring.
| | | | |
| --- | --- | --- | --- |
| Aru | Kurisu | Arekkusu | Sera-san |
June 2 Tuesday
The final group shot at the hotel lobby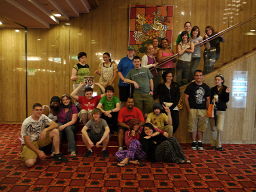 We flew from Kansai to Seoul (Korea) to JFK, and rode the bus back to Bridgewater.
| | | |
| --- | --- | --- |
| Poura-san | Merissa-san | Jyakii-san |
Arrived at BSC at 2:45 AM on June 3 Wednesday. Everyone accounted for and healthy.
I'd like to acknowledge the financial support provided by Bridgewater Foundation. Thank you - your scholarship made the tour possible and left the lasting impression in young minds. I hope you liked the group photograph!
Constant and invaluable help from Office of Study Abroad cannot be forgotten. Susi and Hadley, you're the best
The trip would've been impossible without the work of BSC's Greg deMelo and the Japanese counterpart, Nippon Travel
Takenaka-sensei's presence in Japan reduced my stress so much. He took up the rear and herded students in busy streets. Moreover, we got to attend your wonderful performance
We crossed path with so many people in Japan:
In Osaka: Mrs Kida and Mr Kida at Iwashizu Jinjya, Nissin Cup Noodle Museum, Mr. Yoneda, and Mr. Itoh and Article 9 Forum
In Hiroshima: Mazda Car Factory, Kamotsuru Brewery, Prof. Ebata and staff at Hiroshima University, Hiroshima University's Synchrotron Laboratory, Saijyo Taxi, and Prof. Nakagawa
In Nara: Nara Park Hotel and Ms Nahoko Nishiwaki. Oh and that (overly?) friendly lady at the Noodle shop.
In Kyoto: Mr and Mrs Nakayama, Ms. Miyazaki
And nameless others, so many to mention, whom I didn't even get to meet. We are all grateful.
Finally, my wonderful students. I am glad I brought you back in one piece, hopefully with great experience from Japan.
I think it's time to introduce the members. Please click the photo to see the faces clearly.
Japan Study Tour 2009 - Please click the photo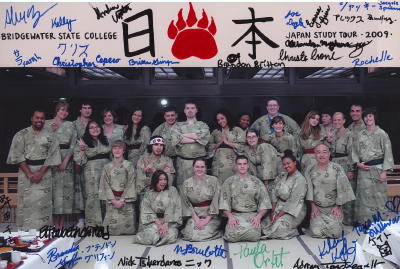 Sincerely, Dr. Noda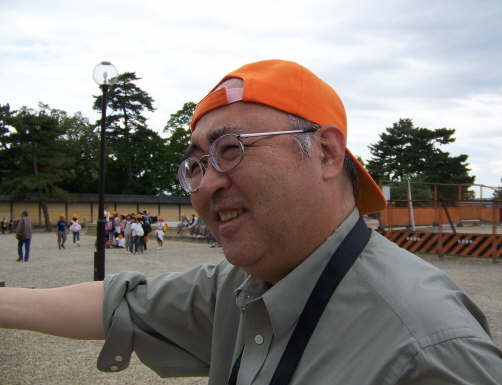 E-mail me at "cnoda @ bridgew . e d u"
---
---