My Journal (Osaka May 19 - May 25)
Click on an image to enlarge
Introduction
I led the Study Tour to Japan from May 19, 2009 to June 3, with twenty four students from Bridgewater State College. It was a busy two week period for me, and here is the journal.
May 19 (Bridgewater) - May 21 (Osaka, Japan)
We gathered at Campus Center at 5 PM. Took the chartered bus to JFK. Boarded an Asiana jet to Seoul on a 14 hour flight which was boring but smooth. I think I slept most of the way. In Seoul (Inchon), we had a long stop-over but the airport had a lot of shops and restaurants. Quiznos! It also had Korean Culture Center where you could dress in Korean garbs and make crafts (free).

We then boarded another Asiana flight to Kansai Airport in Osaka, Japan.

At Kansai, we took a charter bus to our hotel in Nishi Umeda area of Osaka (one hour ride). We arrived around 2:30 PM on May 21, Thursday (1:30 AM of May 20 in Massachusetts). Takenaka-sensei was already there to greet us. Broke up for a three-hour rest

Rejoined at 5:30 PM, and walked around. Visited Yodobashi Camera (a large electronics and everything store), and Hankyu Depahto (Hankyu Department Store). We lost Burendan Buritton and Arekkusu-san, who later joined us. It was good thing they had my cell phone number (and figured out how to use a pay phone).

We had a dinner at Ganko. The dinner was good but I guess everyone was pretty tired by then.
May 22, Friday
The hotel offered a nice breakfast, both Japanese and Western.
At 9 AM, I went to a bank with several students to get Japanese yens. On the way back, we wandered around at Hankyu Depahto basement. I sent students to their own lunch at 11:30 AM.
We started the day's activity at 1:30 PM. It was misty/rainy. We first went to the Sky Garden on a 31-story high-rise in Umeda. Spent one hour. Then, to Hankyu Umeda station to board train to Sakasegawa Station in Takarazuka-city (270 yens). I had planned to visit Tezuka Memorial Museum but it was closed due to Swine Flu. Instead on a whim, we went to Iwashizu Jinjya (shrine) which was a local shrine where my family always went on New Years Day.
My sister Chiaki joined us.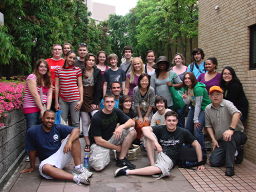 At the entrance to my sister's condo

and we walked to the shrine. My sister knows the priest's family (the Nogis), especially Mrs. Kida who is the principal of the shrine's kindergarden. Her son was the second priest of Iwashizu Jinjya, and he came out in the full priest's attire and explained the history of the shrine and Shinto in general. Arekkusu knew quite a bit about ancient Japanese history and he even surprised the priest. He then gave us a cleansing prayer and ceremony. We took a group picture.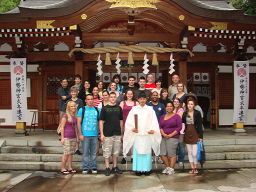 At Iwashizu Jinjya
Off to my old house, just to see the inside of a Japanese house (and rest). And then to a supermarket (Koh-yo) for shopping something to eat. At 6:30, we got to my sister's house. We managed to squeeze in, that is my sister and niece, 25 of us, 8 cats and one turtle. My sister is a classical harpist.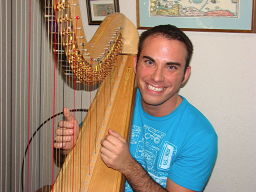 Sutyibu got to play the harp.
And we sang the Happy Birthday song for Tara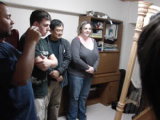 Happy Birthday! for Tara (movie, 33 sec)

May 23 Saturday
In the morning, we went to Nissin (aka, Nisshin) Cup Noodle Museum. The founder of Nissin, Mr Momofuku Ando, invented instant Ramen noodle and then Cup Noodle. He was an inventor and the museum tells of the history and his inventions. It was fun. We also obtained blank cups (300 yens each, $3). We painted them and then watched it packed. We have our own Cups!>/p>
The afternoon was free. I visited my mother!
Professor Takenaka happened to perform a concert, so we went. We took a local train to Shukugawa where we were joined by Miss Nahoko Nishiwaki, who was the tutor for Takenaka-sensei's Japanese class, and her friend; my sister and her friend. We rode bus for about one hour to a remote mountain area of Nishinomiya-city. It was *remote*. Very quiet. Cool air. A lot of singing birds (Uguisu). The concert was at a restaurant, and we enjoyed Takenaka-sensei's jazz piano! Eyana-san made us proud when she sang Itty Bitty Spider for the crowd.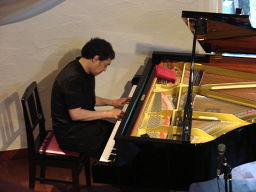 Takenaka-sensei on piano
May 24 Sunday
The official event for the day was the Kyujyo No Kai (Article 9 Society) which discusses Japanese Constitution. The article 9 forbids the armed forces but some politicians want to change it, and this Society is for upholding. They invited my sister to perform so we went to hear the performance. We were asked to give brief speeches so Merissa-san, Kurisu and Andoryu took up the challenge. They did a fine job and I was told later that the audience loved their speeches.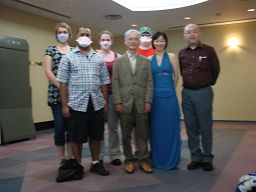 Kurusita-san, Kurisu, Merissa-san, Itoh-san (Article 9 Forum Organizer), Andoryu, my sister (Chiaki), and me.
We wore masks due to Swine Flu
May 24 Sunday
Many students used this day to explore Osaka. Sera-san went to a Hello Kitty store in Shinsaibashi. Eidorian led a small group to the Ferris Wheel and Kaiyukan Aquarium in Tenpozan area.
May 25 Monday
We packed up and left for Himeji (one hour away on a local express train)