My Journal (Nara May 28 Thur - May 29 Fri)
Click on an image to enlarge
May 29 Thursday
When we got to Nara, it was raining so we decided to take it easy and do all sightseeing the next day. So we first had lunch - I picked a noodle shop (Sarashina) in front of JR Nara Station and had Zaru-Soba (cold buckwheat noodle). We managed to find a vegan noodle (Hiyashi Chuuka; cold Chinese noodle) for Keito-san.
Koufukuji Temple area
Then, we met at JR Nara and we went to a ryokan, which is a traditional Japanese inn. That means, we got to sit on tatami matt, sleep in futon, soak in a large hot spa/bath, and eat traditional Japanese dinner (and breakfast). Oh and we wore yukata, Japanese bathrobe.

Burandon Buritton

Jyou

Sutyibu

Andoryu
Dinner in a large dining hall. No, we did not have to sit on floor. There was a trench under the tables, so we sat with our legs extended. A lot more comfortable!
| | | |
| --- | --- | --- |
| Vertical spelling! | Dinner plate | |
| Kerusii-san and Keito-san | Kurisuta-san | |
| Rossheru-san | Group shot | Arekkusu-san and Kerusii-san |
The large spa/bath for men. There is a smaller spa outside under the sky. The cold air and hot water felt so nice. The water was slightly basic (pH of 7.75! there was a table of chemical analysis displayed on wall) and that smoothed our skin. The bath is open from 6 AM until 11 PM
May 29 Friday
Breakfast was just as fabulous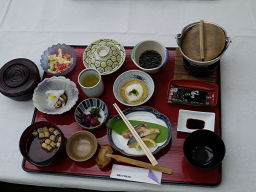 We walked around. We first stopped at Sarusawa No Ike (Sarusawa Pond), aka, Turtle Pond. Koufukuji Temple's famous Five Story Tower in background
| | | | |
| --- | --- | --- | --- |
| Students looking at turtles! | Sunbathing | | A famous scenic shot |
We went through Nara Park where deers are aplenty. Here, you can feed deers. In fact, you can buy "shika senbei" (deer biscuits, 150 yens). Yes, they do "bow" when you feed them
| | | | |
| --- | --- | --- | --- |
| Kerusii-san | Jyakkii-san | Rizu-san | Aru |
We finally got to Todaiji Temple around 11:30 AM. Nahoko-san met us there. The South Great Gate houses wooden statues of two worriers protecting the Buddhist God ? These statues were made by Un-kei and Kai-kei in 12th century. You burn an incense and the smoke will make you smarter.

The South Great Gate





Tara-san and Buritta-san and
the building to house the large Buddha

Poura-san and school kids

The Holy Smoke

The large Buddha

Jaykkii-san, Rizu-san and
Nahoko-san

Eidorian and Kerusii=san

You can buy a roof tile

Kurusuta-san
We had lunch (reportedly a rip-off), and saw the big gong of Todaiji.
My camera's battery ran out so no more pictures, but most of us went to Koufukuji's National Treasure Exhibit.
Later, we took local train back to Kyoto for the final leg of our tour.